Demo 4
Quesiton and Wallpaper of the week
Hey people it's Tommy again with the weekly specials!
Today i'm proud to introduce you our newest wallpaper of Chrono X,
Raven - the shadow warrior!I personally likes this the best of the 3 right now.
Sorry for not making the 2 new allies,but Max didn't make the arts yet,BUT if i'm right it's already on paper so it can be done anytime so maybe next Sunday.
Secondly,the poll to the left got updated.Max asks you that on what console you wanna see the game?
Okay here is the wallpaper!Tommy over and out!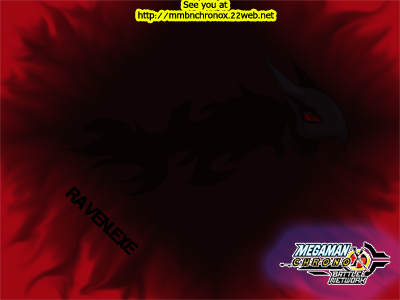 1024 X 768 - 1280 X 1024 - 1600 X 1200
Posted on 25 Apr 2010 by FTommy
Changes, changes, changes
We decided to move to a new forum*YAY!*
Now with PHP support, changeable themes, and avatars data base, everything to make users being able to personalize their browsing even more. The "Forum" button got updated, so now it redirects only to the new forum. Also the old one gonna be deleted on the Wednesday, so grab what's important from it and go to the new one:D
Link to the OLD one: http://z3.invisionfree.com/bn7project
Link to the NEW one: http://mmbnchronox.22web.net/phpBB3/index.php
Also on the sidenote, TREZ's site was banned because of hosting illegall stuffs like hacking tools and hacked roms.
That's all for today, MaxRock's out!
Posted on 24 Apr 2010 by MaxRock
<< Previous 1 2 3 4 5 6 7 8 9 10 11 12 13 14 15 16 17 18 19 20 21 22 23 24 25 26 27 28 29 30 31 32 33 34 35 36 37 38 39 40 Next >>